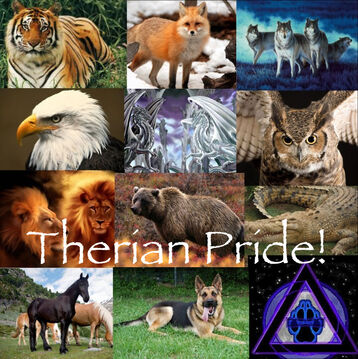 What are Therians?
Edit
Therians or therian otherkin are a type of otherkin where humans believe they were once within the soul a animal of the physical plane, therians range from felines, canines, birds, and even aquatic life. Therians are closer to their kintype due to them being back on the physical where their kin are from. There are many type of otherkin that will be given a few in the "Type of Therians" section below.
Type of Therians
Edit
Wolves
Foxes
Bears
Tigers
Panthers
Lions
Dogs
Hawks
Eagles
Coyotes 
Ad blocker interference detected!
Wikia is a free-to-use site that makes money from advertising. We have a modified experience for viewers using ad blockers

Wikia is not accessible if you've made further modifications. Remove the custom ad blocker rule(s) and the page will load as expected.